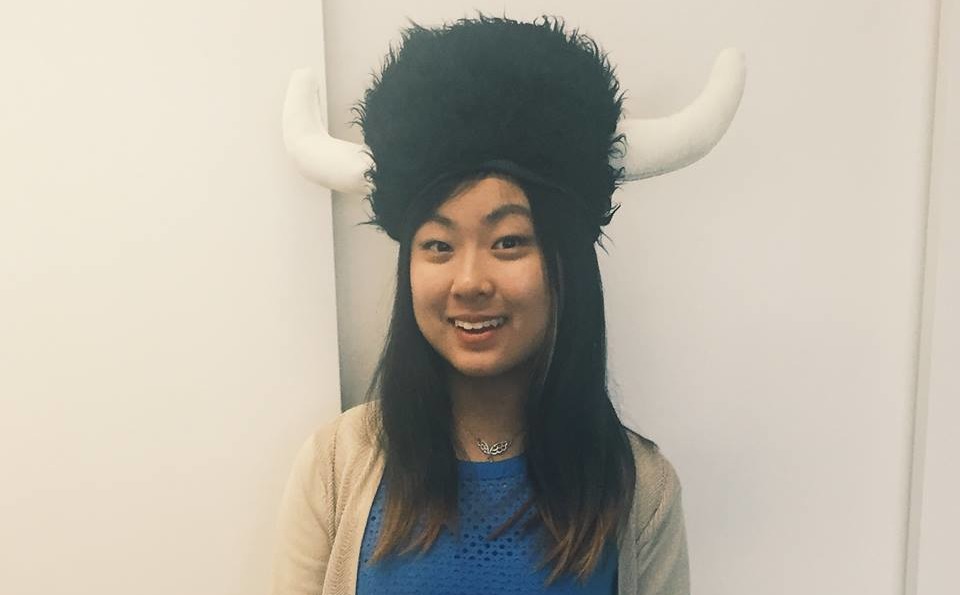 Ever wondered what it's like to be a Marketing Intern at Big Viking Games? Well, it's no secret that Vikings are talented, smart, and awesome individuals and when it comes to finding our interns, we expect no less!
Eva joined Big Viking Games in May of this year and was our very first Marketing Intern to join the Horde. Eva is now back to school for the Fall, but will still be with us during the school year on a part time basis! In just a few short months, she tackled a wide range of projects and was not only a pleasure to work with but also really showed us she had what it took to become a Viking! Read more about her experience here: 
 Tell us a little bit about yourself!
I'm originally from Mississauga, but for the past couple of months I've been working with the Vikings at the Toronto studio. In the fall, I'll be back at Western in London (woo!) studying Psychology and Ivey Business.
 Tell us what it's like to work on the marketing team?
It's definitely been a rewarding (and amazing) experience working with Sam (Product Marketing Manager) and the Marketing team. Although I initially started with market research, throughout the summer I've been lucky enough to work on a variety of different projects including corporate marketing, art creative, HR onboarding, operations, and more. I was constantly given new learning opportunities and the chance to go outside my comfort zone, which was great. It's been very empowering to be able to work on large-scale projects with such visible impacts.
 What was your interview process like?
I actually had a pretty unconventional interview process; the first person from BVG that I met was actually Greg (Co-founder), at a conference in London last year. I specifically remember chatting with him about Threes (the game) and A/B testing at BVG. He ended up referring me to Ana (HR Manager), whom I met along with Gary (Sr. Product Manager) at the London HQ.
Greg → Ana + Gary → Albert (CEO) → John (Finance/UA) → Sam
I was speaking with a lot of different people at the time– mainly because there was never a specific position I was applying for, so much as an opportunity to find a place within BVG. I had exploratory chats about data analysis/reporting, finance/UA, and marketing before we finally found the right fit for me with Sam's team in Toronto.
What was the coolest project you worked on and how involved were you with it?
Man, this is a hard one. If I had to pick, I would say the FishWorld User Acquisition (UA) video that I worked on (with an artist, audio engineer, and graphic designer). I was project managing that piece, and weighed in on some of the initial concept storyboards as well. I also scouted and contracted an outsourced artist with whom we worked with to create the intro/outro art and animations. Although it was a long process, it was just that much more satisfying when we finally finished. Seeing the final product of all that hard work was a real high for all of us.
What was your proudest accomplishment?
These last few months, I drove the development of a new talent pipeline for outsourced freelance artists. I had the chance to scout, contract, and manage artist talent to produce art deliverables and other project assets for some of our current and upcoming titles. The idea is to build strong working relationships with younger, talented student freelancers so we have on-hand resources for any outstanding art/animation projects, as well as the opportunity to retain talent within the company when these individuals graduate.
What did a typical day look like for you?
Every day is constantly a surprise. In the morning, I could be working on strategy decks i.e. for onboarding day, or managing marketing collateral. In the afternoon, I'll be putting together creative briefs for the next project, on conference calls with freelancers, or working on internal process proposals/ market research docs, and more. I guess there isn't ever a "typical" day for me — but I prefer it that way!
What were your expectations coming into your internship?
When I first started out, the expectation was to spend 80% of time on market research and 20% on other things. A couple weeks in, that was pretty much reversed, haha.
I started off doing market research and pitching proposals for YoWorld feature and monetization recommendations. Soon after, I was working on defining a creative process, doing strategy decks for onboarding indoctrination, working with outsourced talent to deliver art creative, and more.
As someone who wasn't sure what they wanted to do (even within marketing), I really appreciated being able to dabble in so many different departments/fields throughout these few months. It got me working with a variety of talented people on some pretty exciting projects. My entire BVG experience has been very dynamic, which is great since I typically thrive in fast-paced environments.
What's your biggest takeaway from the summer that you would give as advice to someone in search of an Internship at BVG?
Challenge conventions, and take strategic risks. I think it's important to be as creative as you can within reason, and to not think of guidelines as constrictions. It's up to you to be entrepreneurial, make smart decisions, and put yourself out there. Bottom line: do what you think is best to solve the problem.
There is no be all and end all to networking or interviewing. Be confident and approachable, and don't just limit yourself to the topics of companies and jobs. You never know — a conversation about your favourite iOS game could lead to an internship at BVG!
Ultimately, I believe that BVG is a company that looks to hire based on talent, not purely to fill up job positions. If you have something interesting to offer – even something we haven't thought about – and you're a good fit, then you just might have a place here.
What are some things that you learned at BVG that will help you in the professional world?
Oh, tons.
Make mistakes and learn from them.

There were a couple projects here and there that were great learning experiences, even if they didn't go exactly as planned. If you make a mistake, treat is as a learning experience, and figure out the key takeaways so you can better prepare for similar situations going forward.

Be flexible and open to change.

For a creative project I worked on, there were many times when goals changed, concept directions shifted, and roadblocks came up. I've learned that regardless of the amount of iterations, the most important thing is to never settle for a suboptimal product. Always implement good feedback, no matter at what stage it's given.

Be clear and always give context.

You can really save a lot of time (and frustration) if there's transparency and clear communication in a project. Whether that's making sure all projects are accountable/consultants are on the same page from stage zero, or making sure all feedback is collected in a timely manner, keeping everyone in the loop and making unanimous decisions is critical to project efficiency.
All in all, these past four months have been nothing short of amazing. I've had the chance to work with some ridiculously talented people who quickly went from strangers, to colleagues, to friends. I was able to drive some large projects with solid impacts, and do some great things for a company that has provided me with invaluable experiences.
It's been a fantastic summer at BVG. Luckily, it's not goodbye quite yet — I'll be working part-time in the London office come September, and am excited to continue my journey at Viking HQ in the fall!
Interested in an Internship or other opportunities with us? We're always hiring! Check out our careers page.