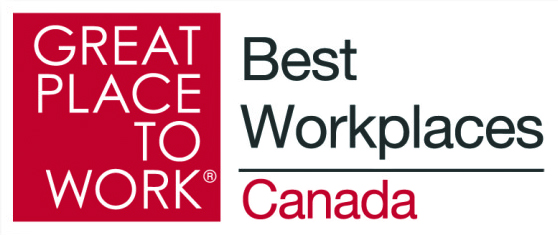 Big Viking Games is extremely proud to announce that we have been placed seventh out of 50 companies as a Best Workplace in Canada!
We are grateful to have won this award and could not have done so without the amazing people we work with each and every day! Thank you for the continuous recognition and support!
Here's our official press release on winning the award:
Big Viking Games Named One of Best Workplaces in Canada
London, Ontario – April 13, 2015 – Independent video game developer Big Viking Games today announced it has been recognized as having one of the "Best Workplaces in Canada" for 2015 by the Great Places to Work Institute. A pioneer in HTML5 video games, Big Viking ranked seventh out of 50 companies for "Best Workplaces in Canada: Medium" thanks to the company's dynamic work environment that focuses on employee career growth. Earlier this year, Big Viking also earned recognition as one of "Canada's Top Small & Medium Employers" by the editorial team of Globe and Mail's Canada's Top 100 Employers.
Big Viking develops both social and mobile games, and has led the way for seamless cross-platform gaming across multiple devices. Fostering employee growth and maintaining a workplace environment conducive to low stress and productivity have been of paramount importance as the company has expanded, helping it to attract and build a highly talented and successful team.
"At Big Viking we've always focused on being an employee-oriented company that helps members of our team develop their careers in the video games industry," said Albert Lai, CEO of Big Viking. "We're proud that our efforts and excellent work environment have earned us the distinction as one of the Best Workplaces in Canada, and we look forward to earning the acknowledgment again next year."
Great Place to Work compiles the annual list of Best Workplaces using a survey tool called the Trust Index, which was completed this year by nearly 48,000 Canadian employees. The list of 50 Best Medium Workplaces in Canada recognizes companies with 50–999 employees working in Canada.
For more information regarding Big Viking please visit the website, or Big Viking's Facebook and Twitter pages. Those interested in joining the Big Viking team can check out the career page for current opportunities.
About Big Viking
Since 2011, Big Viking Games has been committed to developing games with a focus on creating passionate fans through high-quality content. Today, the company is Canada's leading HTML5 mobile game development company. Through our unwavering commitment to excellence and our passion for technology and user experience, we have been able to create games that are enjoyed by millions of players worldwide. To find out more about our work and us please visit http://www.bigvikinggames.com.
# # #
Press Contact
Press Contact:
Alex Josef
VIM Global
(310) 704-5891