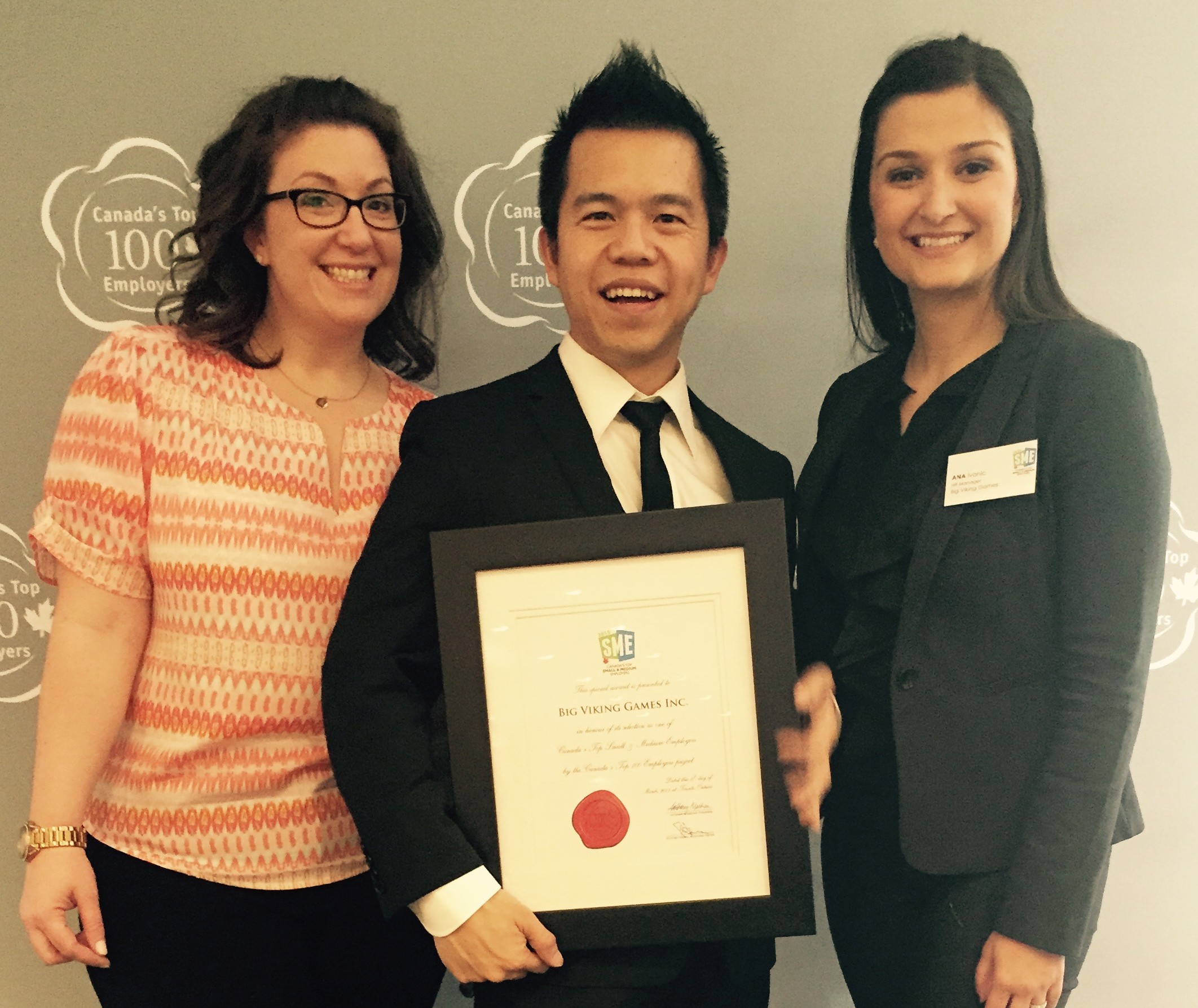 Big Viking Games is extremely proud to announce that we have been named one of Canada's Top Small and Medium Employers for 2015 by The Globe and Mail for the second year in a row!
We are very excited and extremely grateful to be granted this award, and are proud of being acknowledged for all the hard work that every Viking has put in to build an amazing work culture. Thank you to every person who has supported us since day one — we would not be here without you! Here's to many more!
Here's our official press release on winning the award:
_______
FOR IMMEDIATE RELEASE
Big Viking Games Named One of Canada's Top Employers for 2015
One of Canada's Largest Independent Game Companies is Honored For Offering Employees an Exceptional Workplace
London, Ontario – March 10, 2015 – Independent video game developer Big Viking Games today announced it has been acknowledged as one of "Canada's Top Small & Medium Employers" for the second year in a row by the editors of Globe and Mail's Canada's Top 100 Employers editorial team. A leader in HTML5 games, Big Viking won the award by providing an excellent work environment, which includes perks such as monthly Viking outings and feasts, professional development, and a meritocratic work structure.
Big Viking develops both social and mobile games, and has pioneered the way for seamless cross-platform gaming across devices. Employee satisfaction and workplace environment have been of paramount importance as the company has grown, helping it attract and build a successful team.
"We are a huge believer that a fun work environment creates better games because happiness and creativity really go hand in hand," said Albert Lai, CEO of Big Viking. "We've always been an employee-oriented company focused on the career development of every Viking, and we're proud that our efforts and great workplace have earned us a second year nod as one of Canada's Top Employers."
"Canada's Top Small & Medium Employers" is a competition organized by the editorial team at Globe and Mail Canada's Top 100 Employers and is a part of Mediacorp Canada, Inc. This project recognizes small and medium enterprises across Canada that lead the nation in creating exceptional workplaces with forward-thinking policies when it comes to human resources.
For more information regarding Big Viking please visit the website, or Big Viking's Facebook and Twitter pages. Those interested in joining the Big Viking team can check out the career page for current opportunities.
About Big Viking
Since 2011, Big Viking Games has been committed to developing games with a focus on creating passionate fans through high-quality content. Today, the company is Canada's leading HTML5 mobile game development company. Through our unwavering commitment to excellence and our passion for technology and user experience, we have been able to create games that are enjoyed by millions of players worldwide. To find out more about us and our work please visit http://www.bigvikinggames.com.
Press Contact:
Alex Josef
VIM Global
(310) 704-5891
[email protected]