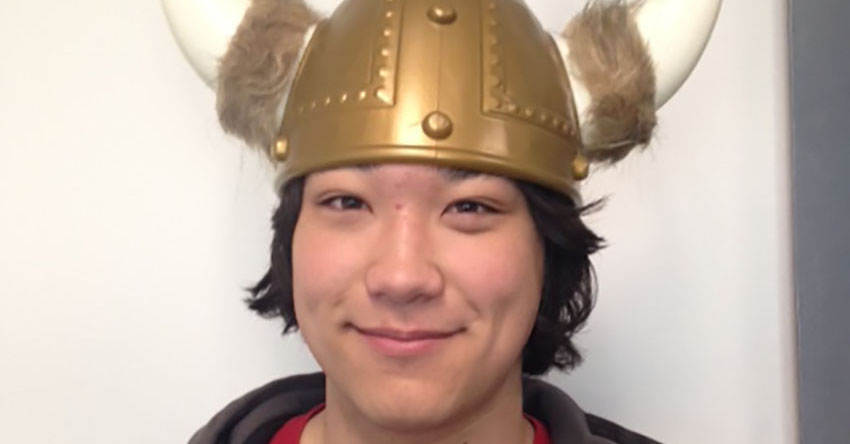 Our previous post from Hannes touched upon how fun and rewarding it was for him to work at Big Viking Games, but there's definitely more to working here than that! In fact, taking on a role at BVG means that you'll have the opportunity to wear multiple hats, often tackling many different responsibilities to find out where you really excel. Our Co-op programs offer this great experience, as our goal is to show these students what work life in the Viking world is really like. Here's Michael, our Co-op Software Developer for Dark Heroes, speaking about what it's like to work at a bustling startup like Big Viking Games!
---
1. Tell us a little about yourself. Where are you from? What team did you work on? What's your background? 
My name is Michael Shimokura, and I'm from Ottawa. I study Computer Science at the University of Waterloo, and I'm entering my third year. I'm a Co-op Software Developer at Big Viking Games working on the iOS sci-fi CCG Dark Heroes. I got into programming because I wanted to make awesome games, and here I am!
2. What do you think it takes to make it as a co-op in a startup company?
Just like any co-op placement, you get what you put in. The thing is, at a startup you have a lot of room to take on as much work as you can handle. If you have a lot of drive and enjoy the work, working at a startup can be really rewarding, but if you just want to be given work and ride the term out then a startup isn't the place for you. There was never an average day at BVG because things could often change very quickly. One day I'd be working on assisting with game design, while the next moment I could be dabbling in some community management. Every day offered unique and interesting challenges!
It was a great experience here because I felt like the work I was doing was genuinely making a difference. Some of my friends from Waterloo that do their co-ops at other workplaces tell me that they get assigned to one task, which can get a bit tedious for them. What's more, they never even get to see the products they work on go live! Here at BVG, I had a variety of roles and responsibilities, and most importantly for me, I really got to see the impact my work had on the company as a whole as basically everything I worked on before I left shipped.
3. What was it like to work on Dark Heroes?
We had a pretty small community, but they were very involved! People would collect the latest card statistics and write guides on how to best use the Fusion system. The in-game chat was really useful for us because players would hang out and help newcomers, as well as talk strategy, which can definitely come in handy as a source of feedback.
As for working on the team, each game at BVG has it's own small unit which allowed me to really contribute my thoughts and ideas to many things regarding Dark Heroes. Most of the features we worked on had fairly small development cycles, and we would often have to implement some new features and release it within a couple days. It's safe to say that things moved pretty quickly at BVG!
4. What was your favourite part of working at Big Viking Games?
My favourite part about Big Viking Games are the people. Everyone is extremely helpful and hardworking, and there is never a shortage of fun (lunchtime NHL '14 definitely comes to mind). Above all, I've made plenty of long-lasting friendships here. Working here has proven that work doesn't have to feel like 'work' when you have such an amazing community.
5. What is the most fun thing you experienced during work hours at Big Viking Games?
Everyday is fun at BVG, but probably the single most fun thing I did during my time here was a Friday company trip to Canada's Wonderland! Company outings really make a huge difference because it's a chance to connect with co-workers outside of the workplace. Overall my experience at Big Viking Games was nothing short of amazing, and I'm happy that I was able to work with such a great group of people!
– Michael
If you share the same excitement that we do when it comes to making games, then check out our career page because Big Viking Games is always looking for new talent!